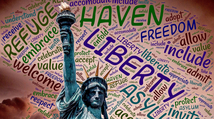 Join Faith in Public Life and people of faith and conscience across the nation in signing the PLEDGE TO STAND IN SOLIDARITY WITH PEOPLE SEEKING ASYLUM.
As politicians try to divide us against one another according to race, ethnicity, and or nationality, we remain united and steadfast in our conviction that all people deserve dignity, respect, and equity, and that together we can make such a world possible. We are people of faith and conscience, coming from a long tradition of welcoming the sojourner and loving our neighbor and, following the example of our sacred texts, pledge our commitment to be good neighbors to those seeking refuge in our community, and to build a community where all are welcome.
Click here to read full statement and sign it.