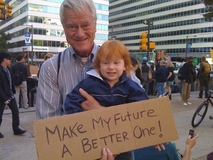 Viking Economics: How the Scandinavians got it right and how we can, too is the title of sociologist, Quaker, and former Swarthmore professor's George Lakey's newest book.
Hear the author Friday, Jan. 13, 7:30pm at the Palo Alto Friends Meeting House, 957 Colorado (between Louis and Greer, south of Oregon Expressway).
Click here to download more information about the book.