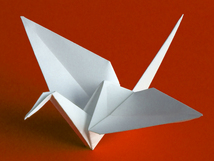 As part of Campaign Nonviolence Week of Action join people around the world in celebrating the vision of a nuclear weapons free world, raising awareness and calling on our leaders to advance nuclear disarmament.
Established by the United Nations General Assembly, the aim of the International Day for the Total Elimination of Nuclear Weapons is to enhance "public awareness and education about the threat posed to humanity by nuclear weapons and the necessity for their total elimination, in order to mobilize international efforts towards achieving the common goal of a nuclear-weapon-free world."
This year, on Sept. 26, the Parliamentarians for Nuclear Nonproliferation and Disarmament (PNND) will present a statement calling for A Nuclear-Weapon-Free-World: Our Common Good, endorsed by parliamentarians, mayors and religious leaders to commemorate the 70th anniversary of the onset of the nuclear age and the foundation of the United Nations.
"Nearly 16,000 nuclear weapons remain in the world's arsenals costing $100 billion annually - funds that could instead be used to implement the Sustainable Development Goals," said Mr. Saber Chowdhurgy MP, Co-President of PNND. "We reaffirm UN Secretary-General Ban Ki-moon's description of the abolition of nuclear weapons as a "common good of the highest order."