Love Knows No Bounds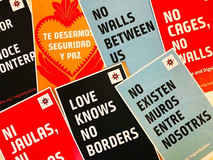 On Monday, Dec. 10 – Human Rights Day – more than 200 faith leaders will take part in a nonviolent direct action at the border in San Diego, California. Between then and December 18, International Migrants Day, communities from across the country will host solidarity events to stand with the migrant caravans and all who seek refuge.
LOVE KNOWS NO BOUNDS is the name of the week of action planned.
Visit this American Friends Service Committee webpage to find an event near you or learn how to organize one yourself. Click here to access their social media graphics and posters page so you can build awareness and advocate for justice and compassion wherever you are. Share these posters with your community of faith, in your neighborhoods, on your social media postings.
Together we must insist that our country respect human rights and dignity and respond to immigrants with humanity and love.