A Jew, a Christian, and a Muslim sit down to create a book for kids about embracing difference!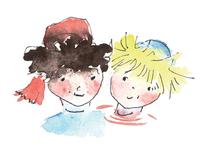 Monday, June 3, 7:30pm
Congregation Etz Chayim
4161 Alma St., Palo Alto
Rabbi Shelly Lewis, artist Kim Howard, and graphic designer Rashida Basrai have collaborated on three books in a continuing series about respecting and celebrating the other. The newest collection of adventures set in Jerusalem, Even More Mini Adventures in Jerusalem, follows Mini Adventures in Jerusalam, and More Mini Adventures in Jerusalem. The tales describe how Ahmed and Mati (pictured above by artist Howard), two miniature young heroes, sometimes find themselves in tight places as they learn about each other.
The panel of three will speak about their experiences working together based on shared values. While selections from the book will be read, this is an adult event.
Co-Sponsors:
American Muslim Voice
Congregation Etz Chayim
Congregation Kol Emeth
Multifaith Voices for Peace & Justice
Books will be available for sale and for signing.