Correction Officer Drives Truck into Peaceful Protesters outside Detention Center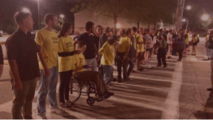 Wednesday night, August 14, a guard at a for-profit ICE Detention Center in Central Falls, Rhode Island drove a truck into a group of peaceful protesters from an organization called Never Again Action. Then a squad of prison guards came out and pepper sprayed them. Five people were hospitalized, including one person with a fractured leg. Those protesting were mostly Jewish community members demonstrating against the for-profit prison's contract with ICE and the inhumane and immoral immigration policies. Click here to read the NPR report and watch the disturbing video.
Never Again Action emphasizes that these assaults are just a small example of the horrifying violence that ICE uses against our immigrant neighbors every day.
To show support and solidarity, please read and consider signing this petition from Never Again Action calling for the closure of the Wyatt Detention Center and the immediate release of all ICE detainees.
August 20, 2019 "talking points" from Never Again Action organizers:
We are grateful that the five injured protesters have all been released from the hospital, but our thoughts are also with t

he people locked inside The Wyatt in horrible conditions without access to medical care. The violence that #JewsAgainstICE

protesters experienced was a small example of the violence that ICE uses against our immigrant neighbors every day.

We appreciate the decision by Wyatt Detention Facility to place Captain Woodworth on leave, and by the state to open an investigation, but we also call for the governor and attorney general of Rhode Island to open a broader investigation into the unsafe and inhumane conditions at Wyatt Detention, where over 100 asylum seekers are currently being detained.

Violence at the hands of law enforcement is an all-too-common reality for many people of color in the U.S., and rarely do the perpetrators face swift consequences like Captain Woodworth did in this case.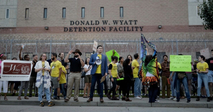 The Rhode Island chapter of T'ruah, a national organization of Jewish rabbis for human rights, issued this statement:
Last night, a corrections officer drove a pickup truck into a row of protestors at the entrance to an ICE detention center in Rhode Island; when those present surrounded the truck and their injured friends, the crowd was sprayed with pepper-spray. If this sort of violence is wielded against unarmed, conscientious objectors gathered peacefully outside, it frightens us to imagine the treatment faced by those detained within the center's walls.
Our Torah teaches: "When strangers reside with you in your land, you shall not wrong them. The strangers who reside with you shall be to you as your citizens: You shall love the stranger as yourself, for you were strangers in the land of Egypt (Lev 19:33-34)." As rabbis, we believe that we must aspire to apply this ethos to immigration policy in this country. We also believe that the right to peacefully protest in this country must be vigilantly guarded.
...We will remain steady in our commitment to nonviolent action, even in the face of such callous disregard for the lives and safety of our friends, congregants, students, and neighbors. As those of us present sang many times that evening, "Olam chesed yibaneh: We will build this world from love."
Click here to read the full T'ruah statement.