Prayerful & Passionate Protest on behalf of Immigrants and Refugees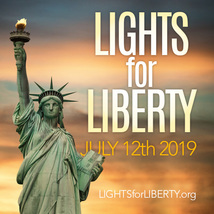 Lights for Liberty: A Vigil to End Human Concentration Camps
Friday, July 12, 6:30-7:30pm*
Lytton Plaza, Corner of Emerson St. and University Ave., Palo Alto
Be part of a worldwide movement to protect the sacred principle that ALL HUMAN BEINGS HAVE A RIGHT TO LIFE, LIBERTY AND DIGNITY, and to protest the inhumane and immoral conditions faced by refugees and immigrants.
Our gathering will include prayers from diverse faith traditions, singing, and a quiet vigil holding signs of solidarity as part of the Lights for Liberty: A Vigil to End Human Concentration Camps movement across the nation and around the globe. Some signs will be provided and you are welcome to bring your own. You may also bring your own congregational banner, to indicate the support of your faith community.
*We begin and end the program early to include our Jewish members' observance of Shabbat, which starts at 8:12pm.

Give me your tired, your poor,
your huddled masses yearning to breathe free,
the wretched refuse of your teeming shore.
Send these, the homeless, tempest-tossed to me,
I lift up my lamp beside the golden door.
--Emma Lazarus, as inscribed on the Statue of Liberty
Please visit our Facebook event page, tell us you are coming, and SHARE WIDELY!!!
If your congregation, organization or community would like to be listed as a co-sponsor, please contact us at info@multifaithpeace.org.
There are Lights for Liberty vigils happening worldwide on July 12. Click here and scroll down for the most updated list.
Other local vigils that we know about so far are:
Silent Vigil 12Noon-1pm at the Corner of El Camino and Page Mill in Palo Alto
Redwood City Vigil hosted by Woodside Road United Methodist Church, Faith in Action Bay Area and others, 7-10pm, 1044 Middlefield Road, Redwood City
Together We Will Palo Alto/Mountain View vigil, 7:30-9pm at 790 W. El Camino Real in Mountain View