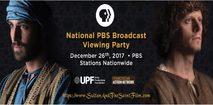 PBS will broadcast "The Sultan and the Saint" nationwide on Tuesday, December 16. The film is a powerful depiction of Muslim-Christian peace, telling the story of St. Francis of Assisi's trip to Egypt during the wars of the Fifth Crusade (1217-1221). Francis enters Sultan al-Kamil's military camp, and through dialogue and prayer, the two lay the groundwork for an end to the bloodshed. Narrated by Jeremy Irons, the film also includes interviews by scholars, historians and religious leaders.
"The Sultan and the Saint" will show on the local PBS station KQED from 8pm-9pm, Tuesday, Dec. 26. Check local listing for other times.
Islamic Scholar Homayra Ziad observes, "These two were indeed seeking peace in the midst of war, so they were open to being transformed by the person who was alledgedly their enemy." Set in the past, the film speaks with urgency to our present world.
You are also encouraged to host a broadcast viewing party in your home, congregation or community. Sign-up by clicking here and a discussion guide will be provided.