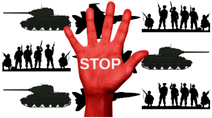 Money for Education, Environment, Health & Justice: NOT WAR!
Protest the huge increase in military spending!
Saturday, April 15, 12Noon
King Plaza at City Hall (250 Hamilton, Palo Alto)
Stand for a budget that promotes human welfare - not war! The current administration is asking for an additional $54 billion for Pentagon spending, while it advocates cutting programs that support education, fair labor practices, health care, the environment, and much, much more.