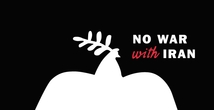 Multifaith Voices for Peace & Justice (MVPJ) stands firm in its commitment to work for peace. While we recignize and respect diversity among individuals and traditions, MVPJ insists that "War is not the answer," but will lead to more violence and countless harm and death, particularly in this current situation between the United States and Iran. MVPJ is not advocating all the views or stands of any of these organizations, but in the list below we want to show how people from so many and various backgrounds and walks of life are speaking out against war with Iran, and offer their perspectives for your prayerful consideration. WE URGE YOU TODAY to call or write to your Congressmembers, either directly or through one of these online options!
Check this webpage occasionally for updates. Below is an initial collection of action suggestions and responses from different religious and civic groups. Feel free to email us if you have ideas we might add, particularly from your own faith tradition. Please note that you do not need to be a member of any of these traditions or organizations to use their site to send messages.
Friends Committee on National Legislation (FCNL): MVPJ has long partnered with and learned from this Quaker-based peace lobbying group. Here is a link to easily find and write a letter to your Congress members through FCLN, and this link has a short script for you to CALL your Congressperson, always
CAIR (Council on American Islamic Relations) is a Muslim civil rights and advocacy organization. On this webpage they call on Americans to urge Congress to block funding for war with Iran, give background on the legislations re-introduced to Congress last Friday, Jan. 3, and an opportunity to send an email to officials.
J Street, a Jewish organization in the United States, released this article with very helpful information on why they believe Congress must act to prevent war with Iran.
The United Church of Christ (a major Protestant denomination) has long advocated for diplomatic and peaceful engagement with Iran. Use this link for useful background information and as well as to send an email to your Congress members.
Pax Christi USA is a Catholic peace and justice organization that has a full, updated webpage with excellent links to prayers, faith statements, study material (including from the National Council of Churches) and action recommendations.
American Friends Service Committee, another Quaker organization, offers background with "5 things to know about Iran" and emailing options on this second page.
Several national religious organizations have signed a "Faith Statement on Escalting Violence with Iran." It reads in part, "As people of faith, we condemn the United States' dangerous agression toward Iran, including the assassination of Gen. Oassem Soleimani. ... Our faith communities see the futility of war, and its power to dehumanize. We know that human fourishing entails breaking cycles of violence, being courageous peacemakers, and focusing on the root causes of conflict." Click here to download a PDF of the full statement and signers as of Januay 6, 2020.