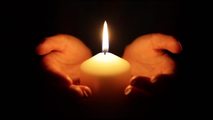 Saturday, December 14
4pm-5:30pm
Lytton Plaza, 250 Hamilton
Palo Alto
On this seventh anniversary of the tragedy at Sandy Hook Elementary School, gather with us to give voice to the over 700,000 victims and survivors of gun violence since December 2012.

The program will include testimony from a Menlo-Atherton High School student (Students Demand Action), two survivors of gun violence, Congresswoman Anna Eshoo, State Assemblymember Marc Berman, and Dr. Susie MacLean from SAFE (Scrubs Addressing the Firearm Epidemic). The vigil will conclude with a ceremony of Remembrance and Bell Ringing for those impacted by gun violence.
Sponsored by Moms Demand Action, Multifaith Voices for Peace & Justice, and other faith and community organizations.
Shine a light to #EndGunViolence
Download a PDF Flyer and post this jpg flyer to help spread the word!
RSVP (optional) by clicking here.