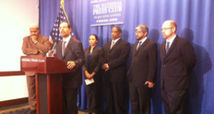 Representatives of the Council on American-Islamic Relations (CAIR), the nation's largest Muslim civil rights and advocacy organization, on Friday joined other leaders at a new conference in Washington, D.C., to state that Americans will remain united in the face of developments in the Boston Marathon bombings that include the naming of suspects who are reportedly Muslim.
The CAIR website lists case by case, year by year examples of consistently condemning any form of terrorism. According to their website: "Any Muslim who plans, attempts or carries out a terrorist attack would be acting outside the boundaries of his or her faith and would be repudiated and condemned by our community."
In the same spirit, the Islamic Network Group (ING) issued a statement expressing their prayers which are with all of the victims and their families. ING emphasized that "the ideology of extremists do not reflect the beliefs and practices of the vast majority of the ethnic or religious groups to which the extremists are associated, and that American Muslims vociferously and unequivocally condemn terrorism."
Interfaith Alliance president Rev. Dr. C. Welton Gaddy released a statement from the national group saying that any hatred or violence expressed toward Muslims because the brothers were reportedly Muslim would be "against everything we stand for as Americans."