Campaign Nonviolence Week of Action: Sept 20-27, 2015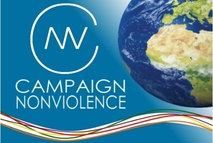 Campaign Nonviolence 2015
Abolish war
End Poverty and Racism
Reverse the Climate Change
Mainstream Active Nonviolence
And start here!
Multifaith Voices for Peace & Justice will join Campaign Nonviolence again this year. If your congregation, organization or a community would like to participate, please contact diana@multifaithpeace.org.
Marches or prayer vigils, studies or drama, let us work together to build a world of active, creative, challenging and audacious nonviolence!
Campaign Nonviolence Week of Action events will take place in each of the 50 states as well as several other countries.
Click here to learn more about CampaignNonviolence.org.
Click here to sign the Campaign Nonviolence pledge.