Protest Nuclear Weapons during Campaign Nonviolence Week of Action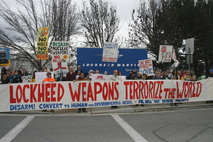 Friday, September 25, 12Noon
Lockheed Space Systems in Sunnyvale
Mathilda Avenue and Lockheed Martin Way, Sunnyvale

September's Week of Action will see hundreds of Campaign Nonviolence actions across the nation. Those of us who live near San Francisco need look no further than Lockheed Martin in Sunnyvale to find one of the world's deadliest purveyors of destruction - the largest manufacturer and exporter of military weapons, proudly providing the tools necessary for today's "warfighter."
The Pacific Life Community, Multifaith Voices for Peace and Justice and others invite you to attend this vigil where people will silently and nonviolently stand in witness against the violence, destruction and death perpetrated from this place.
Click here to download a flyer with more information.
Lockheed Space Systems in Sunnyvale is the primary contractor for the Trident D-5 nuclear missile, one of the most deadliest weapons of mass destruction ever built. In 2014, 74% of Lockheed's sales came directly from the U.S. government, and 20% from international customers. Its gross revenue was $45 billion, mostly from our tax dollars. Also in 2014, it paid lobbyists $14.5 million, and its political action committee contributed $2.5 million to federal candidates, including some of our local respresentatives. In addition to making arms, Lockheed co-manages the Y-12 nuclear plant in Oak Ridge, TN, which produces weapons-grade uranium, and the Pantex plant in Texas, where nuclear weapons are assembled and disassembled.
Lockheed is in our own backyard. If we do not protest its activities, it is hardly likely anyone else will. If we, who are acting as peacemakers, spend even a fraction of the time Lockheed spends producing its WMDs, there are certainly grounds for hope.
Directions: Public transportation is recommended. From Palo Alto and other northern stops take Caltrain to Mountain View, then the light rail 902 to the Lockheed Martin Station. From the San Jose Diridon Station, take light rail 902 to Lockheed Martin Station. There is usually some parking on 5th Ave. between N. Mathilda and Bordeaux. See map on the vack of the attached flyer for details.
The Pacific Life Community, a network of spiritually motivated advocates committed to ending nuclear weapons and war-making through non-violent direct action along the Pacific Rim, holds monthly peaceful vigils in front of Lockheed in Sunnyvale.
Multifaith Voices for Peace & Justice is pleased to join with The Pacific Life Community, Catholic Worker House in Redwood City, and Casa de Clara Catholic Worker House in San Jose in sponsoring this September vigil as part of our Campaign Nonviolence Week of Action events.