Campaign Nonviolence: Global Actions & Regional Events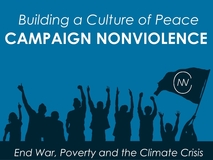 Campaign Nonviolence (CNV) 2015 Week of Action now has over 285 events taking place around the world. CNV actions are planned in each of the 50 states plus Afghanistan, Colombia, Canada and beyond. Click here to learn about local, mid-peninsula events.
Global Opportunites to Mainstream Nonviolence include (but are NOT limited to!):
International Day for the Total Elimination of Nuclear Weapons, September 26 - Spread the word about this day through social media, letters to the editor, and telling your friends, family and faith communities! Invite your local mayor or religious leader to sign the joint statement on A Nuclear-Weapon-Free-World: Our Common Good.
#Enough: Follow the lead of the Afghan Peace Volunteers as together we build a critical mass of nonviolent relationships for a green and equal world without war.
Tell President Obama to recommend unarmed approaches to conflict: Email or call the White House and tell the President that you want the Peacekeeping Summit which he will convene on Sept. 28 to take seriously the recommendations of the U.N. panel that unarmed civilian protection be a prominant aspect of U.N. Peace Operations. Click here for background from "Nonviolent Peaceforce", and then send a message to the White House.
Take the Campaign Nonviolence Pledge to strive to practice nonviolence toward yourself, others, and to join the global movement.
Regional opportunites also include:
Evening of Prayer for Victims of Violence, Wednesday, Sept. 30, 7:30pm, Cathedral Basilical of St. Joseph, 80 South Market St., San Jose
To learn more about Campaign Nonviolence click here.