#Enough! Follow the Lead of the Afghan Peace Volunteers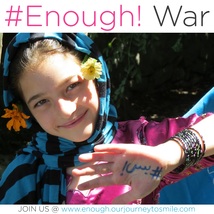 The Afghan Peace Volunteers invite us to join
#Enough! A campaign to abolish war and build a green and equal world
Join them TODAY!

Join the Afghan Peace Volunteers and Kabul street kids Zarghuna, Muheb, Barath, Mursal, Inam, Deeba and Zahra, to say #Enough!
On Sept. 21st, the International Day of Peace and beginning of the Campaign Nonviolence Week of Action, 100 Afghan street kids will cook and serve a meal for 100 Afghan labourers to launch #Enough!
TODAY you can join the Afghan Peace Volunteers, a grassroots group started by youth in Kabul, Afghanistan, by signing "The People's Agreement to Abolish War." Help generate the critical mass of friends needed to build a better world.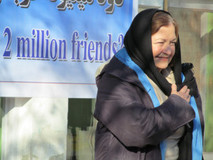 Nobel Peace Laureate Mairead Maguire and Prof. Noam Chomsky have already endorsed this campaign. You can join them by http://enough.ourjourneytosmile.com/ signing the Agreement TODAY!
The Afghan Youth Peace Volunteers (now Afghan Peace Volunteers) was started by youth living in Kabul, Afghanistan. Having lived in the midst of war their entire lives, these young people insist that "war has not worked," and ask for international friendship and solidarity. The group has worked together for several years now. They create videos and blogs to expose both the hopes and pains of life in Afghanistan, host "Global Listening Days" for skype or phone conversations with anyone around the world, partner with youth in other war-torn places, organize the Duvet (Blanket) Peace project which gave Afghan women employment to make much needed blankets for Afghan refugees in the winter, and have founded the Borderfree Center for Nonviolence which sponsors programs on nonviolence, environment, social economic issues and international issues, language and math classes for local "street kids."
Click here to download a copy of The People's Agreement to Abolish War.
In the words of the Afghan Peace Volunteers:
We're tired of wars.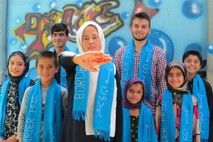 Wars don't work.
Almost every Afghan family has lost a loved one to wars. We have no jobs, our air is polluted and our land has been stripped of trees. Pverty, corruption and terrorism are worsending.
We've tried to bring peace by waging war for more than 40 years. War has not worked.
So the Afghan Peace Volunteers have formed a community at the Borderfree Nonviolence Community Centre in which we reject hatred, revenge and killing because we believe that nonviolent friendships can change Afghanistan and the world.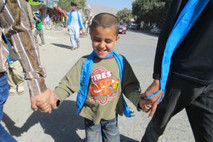 We want you to join us! Hand to hand, we'll nurture a critical mass of nonviolent friendships to form another world!
Learn more about the Afghan Peace Volunteers from Pax Christi articles by Kathy Kelly and Fr. John Dear.