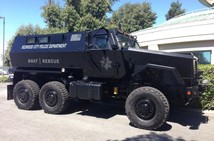 On July 1, 2014 the Redwood City Police Department received a Mine Resistant Ambush Protected (MRAP) vehicle from the Department of Defense's "1033 program." This program distributes excess military equipment to civilian police departments. The range of material is wide, including medical equipment, tractors, MRAPs, and weapons. Many people do not think that vehicles and weapons designed for war belong with civilian police departments, believing instead that officers in Redwood City and beyond are first and foremost peace officers.
There is already a movement to end part of the 1033 program. Congresswoman Jackie Speier is a co-sponsor of Representative Hank Johnson's Stop Militarizing of Law Enforcement Act (HR 5478). This act would, among other things, "end the transfer of certain weapons grade military equipment to local law enforcement," according to a letter from the Congresswoman in early October. Rep. Speier also writes that she is, "deeply troubled that the Pentagon has billions of dollars in excess inventory to give away in the first place."
Redwood City officials refer to the MRAP Redwood City received as a rescue vehicle, and state that this vehicle would only be used in extreme circumstances -- citing the tragic movie theater, school, and shopping mall shootings we have seen unfold in recent years. It is difficult to imagine how one would effectively navigate a MRAP inside a movie theater, however.
Read more to find out how you can do something about this issue.