Unity Rally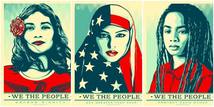 Saturday, June 10, 11am
Stevens Creek Blvd. between Winchester and Santana Row, San Jose

Join religious and community organizations as we stand up for justice and friendship in a UNITY RALLY. ACT for America, a grassroots anti-Muslim organization that has been listed as a hate group by the Southern Poverty Law Center, is coordinating dozens of anti-Muslim protests around the country this Saturday, including one in Santa Clara, CA. Our UNITY RALLY will lift up a positive message message of inclusivity and diversity, standing in solidarity with our Muslim sisters and brothers, and speaking out for the core tenets in all faith traditions of truth, respect and love of neighbor near and far.
Please plan to arrive and leave as you are able. There will be no program.
We will stand as witnesses for inclusivity, justice, and the beauty of human diversity in community.
A large turnout will be a strong witness for love.
Gather on Stevens Creek Blvd. between Winchester and Santana Row, in front of Crate & Barrel and The Container Store, San Jose.
(Look for the orange construction tape. That's where we belong.)
We will gather from a variety of spiritual paths and walks of life, from communities around the bay area, to celebrate the friendship and respect that we hold dear. While hate must never stand unchallenged, the intent of the UNITY RALLY is not confrontational, but to affirm the unity in the midst of diversity which is the strength of our communities.
How you can get involved:
Spread the word in your communities and congregations.
Click here to download a flyer and distribute widely!
Sign the "Statement Against Hate" as an individual and/or organization by using this google form. Click here for a clean and final copy of the "Statement Against Hate." (There are some typos on the google form.)
Ask your congregation or organization to co-host the rally, and register that by on this google form. Co-hosting means you will be listed as an organization co-host of the vigil, to send a strong message that our region stands against hate. (To see a recent list of co-hosts (there are LOTS but they keep coming in), click "Read More.")
Come to the rally! See suggestions below to visually demonstrate our unity.
Pictures and Social Media: Please take and share lots of pictures. We will be using the #CounterACTHate hashtag on social media.
SUGGESTIONS TO SHOW UNITY AND INCLUSION:
- Bring flowers to give away
- Wear flowers
- Bring American flags
- Make LARGE white signs with bold black letters
- Signs should be positive and show what we believe IN
Please carpool if possible.
Religious leaders are encouraged to wear their clerical attire.
Please join Multifaith Voices for Peace & Justice, the Council of American Islamic-Relations (CAIR-SFBA) and more than 120 other religious and community organizations this Saturday as we celebrate our UNITY!
For more up to date information, visit the event Facebook page.
Branded as a "March Against Shariah," ACT for America targets Muslim communities, works actively to ban humane refugee resettlement programs from war-torn countries such as Syria, and raises the issue of Islamic law as a fear-mongering tactic. Scheduling the rallies during the Muslim holy month of Ramadan, and so shortly after the horrific tragedy in Portland is particularly offensive. Note that the anti-Muslim rally is schedule to be at the corner of Stevens Creek Blvd and Winchester Ave. Please avoid confrontation and be sure to join the UNITY Rally at Stevens Creek Blvd. and Santana Row, about 1/2 block away.
Co-hosts include: Alliance of South Asians Taking Action (ASATA); Alum Rock United Methodist Church; AMAAN Committee of the Arab American Cultural Center - Silicon Valley; Amnesty International USA; Asian Americans Advancing Justice – Asian Law Caucus; Asian Americans for Community Involvement (AACI); Asian Law Alliance; Bangladeshi American Democratic Coalition; Bay Area Conference of Associates and Religious (BACAR); Bay Resisance; Bend the Arc: A Jewish Patnership for Justice; Billy DeFrank LGBTQ Community Center; Buena Vista United Methodist Church; California Immigrant and Religious Community Protection Coalition; Casa de Clara Catholic Worker; Center for Justice and Accountability; Center for New Community; Coalition for Justice and Accountability; Congregation Shir Ami, Castro Valley; Congregational Church of Sunnyvale; Council on American-Islamic Relations, San Francisco Bay Area; Counter-Friction Sunnyvale; Courage Campaign; Crisis Response Team (Bay Area Muslim Mental Health Professionals); Ecumenical Peace Institute/CALC; Eden Area Interfaith Council; El/La Para TransLatinas; First Congregational Church of Palo Alto, UCC; First Congregational Church of San Jose; First Presbyterian Church of Palo Alto; First Presbyterian Church of San Jose; First Unitarian Church of San Jose; Green Party of Santa Clara County; Haiti Action Committee; Healing Flower Energies; Human Agenda; Human Concerns Committee, St. Thomas Aquinas Parish, Palo Alto; Indivisible East San Jose; Indivisible San Jose; Indivisible Sausalito: Indivisible South Bay (ISB); Interfaith Center at the Presidio; Interfaith Committee and Social Action Committee; Unitarian Universalist Fellowship of Redwood City (UUFRC); Interfaith Council of Alameda County; Interfaith Council of Contra Costa County; Interfaith Movement for Human Integrity; International Socialist Organization; Islamic Circle of North America - San Francisco Bay Area (ICNA-SF Bay Area); Islamic Networks Group – ING; Japanese American Citizens League, San Jose Chapter; Jewish Voice for Peace; Jewish Youth for Action; Lakeshore Avenue Baptist Church, Oakland; Los Gatos United Methodist Church; Meet a Muslim; Mountain View Voices for Peace and Justice; Mujeres Unidas y Activas; Multifaith Voices for Peace & Justice; NAACP Youth Council of the San Jose/Silicon Valley Area; Neighborhood Solidarity Team-San Jose; Net of Light, San Mateo; NIAC; Nihonmachi Outreach Committee (NOC); Nikkei Resisters; NorCal4OurRevolution; OFA-East Bay Central; Orange Alert; Organizing For Action, East Bay Central; Our Developing World; Palo Alto Love Army; Pangea Legal Services; Peninsula Peace and Justice Center; People Acting in Community Together; Progressive Action - Mountain View; Ramallah Club of San Jose; Resource Center for Nonviolence; SABA Islamic Center, San Jose, CA; Sacred Heart Community Service; Rise Up for Justice; San Jose Dharma Punx; San Jose Friday Peace Vigil; San Jose/Silicon Valley NAACP; Santa Clara County Democratic Club; Santa Clara County Move To Amend; Santa Clara County Peace & Freedom Party; Santa Clara County Wage Theft Coalition; San Jose Peace and Justice Center; Santa Clara Valley Chapter of the ACLU of Northern California; Senior and Disability Action; Services, Immigrant Rights and Education (SIREN); Shomeret Shalom Global Congregation; Silicon Valley Asian Pacific American Demoncratic Club (SVAPADC); Silicon Valley Chapter - Japanese American Citizens League; Silicon Valley for America; Silicon Valley Interreligious Council; Sister District Palo Alto; Sisterhood of Salaam Shalom; Somos Mayfair; South Bay Jewish Voice for Peace; South Bay Sanctuary Covenant; Spark Church; St. Jude's Episcopal Church; St. Mark's Episcopal, Santa Clara; St. Paul's United Methodist Church, San Jose; STAND San José; Stand UP! United Peninsula, Uniting Against Racism & Hatred; Starr King Unitarian Universalist Church in Hayward; Students for Justice in Palestine; Sunnyvale Democratic Club; Sunnyvale Presbyterian Pilgrims of Ibillin; SURJ at Sacred Heart; Together We Will - Los Gatos; Together We Will - Palo Alto/Mountain View; Together We Will - San Jose; Tri City Interfaith Council; Trinity Church in Menlo Park (Episcopal); Trinity United Methodist Church, Mountain View; TWW-Los Gatos; Unitarian Universalist Church of Palo Alto; Unitarian Universalist Fellowship of Los Gatos; Unitarian Universalist Fellowship of Redwood City; Unitarian Universalist Fellowship of Sunnyvale; United Marin Rising; Wesley United Methodist Church San Jose; West Bay Chapter of the Buddhist Peace Fellowship; Westminster Presbyterian Church; Women's March San Jose; Working Partnerships USA.