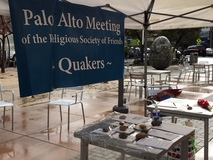 A Quaker Meeting Called with a Concern for the Future of our Country
Saturday, January 7, 11am
Lytton Plaza, 202 University at Emerson, Palo Alto
See more photos of the Public Meeting by clicking on "read more" below.

The Religious Society of Friends (Quakers), a traditional Peace Church, offers to the community an opportunity to listen deeply and humbly to each other and to the Spirit which guides human affairs. For an hour, we will settle into the silence of worship as practiced by Quakers, wherein anyone moved by the Spirit may rise to speak.
It is the silent waiting for the urging of the Spirit which is the foundation Friends' testimonies on Peace, Unity, Simplicity, Equality, Community and Integrity. Social Action based on these testimonies is strengthened by arising from worshipful silence.