Hiroshima & Nakasaki Commemorations: Nuclear Disarmament Resources & Actions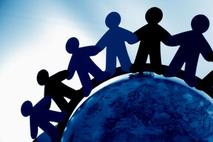 Observe the anniversary of the atomic bombing of Hiroshima and Nagasaki (August 6 and 9, 1945) in prayer, study and actions for global survival.
March for Nuclear Abolition & Global Survival: Mon., Aug. 6, 8am at Livermore Lab. Program features Daniel Ellsberg (famed whistleblower and author), Rev. Nobuaki Hanaoka (atomic bomb survivor), and Professor Christin Hong (UC Santa Cruz expert on Korea). Click here to download flyer with full information.
Atomic Homefront (Film): Monday, Aug. 6, 6:30-9pm, Rinconada Library, Embarcadero Room, 1315 Newell Road., Palo Alto. Documentary about the failure of the federal government and corporate oversight to properly safeguard radioactive waste dumped in the Westlake landfill in St. Louis, Missouri, and how a concerned group of women galvanized the community to fight for clean-up of the site. Sponsored by the local chapter of Women's International League for Peace & Freedom.
Nuclearn Disarmament Resource Guide for Religious Leaders and Communities: Published by Religions for Peace. Click here to download.
Nuclear Remembrance and Action Week Guide: Includes 10 ideas for action. Click here.
Global List of Hiroshima and Nagasaki Commemoration Events: Peruse this online collection of 2018 events around the world! So inspiring! Posted by Abolition 2000, the global network to eliminate nuclear weapons.
If you are aware of other local events, or planning one, please let us know!