Faith Voices Speak Out on Border Policies AND Action Opportunities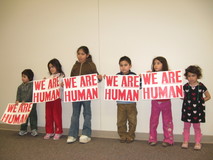 Multifaith Voices for Peace and Justice (MVPJ) stands in solidarity with immigrants and refugees fleeing violence and injustice in their own countries and strongly condemns our government's current policy of detaining indefinitely all immigrants crossing our southern border. Fleeing violence and injustice is not a crime, and people seeking asylum should not be treated as criminals before their cases are heard and evaluated. They should instead be able to seek safe refuge in this country. Keeping children in prison-like conditions, even if with their parents, is inhumane and will cause long-term damage to innocent children. Every faith represented in the MVPJ family abhors such practices and teaches its members to love their neighbors, to help those in need, to be kind and compassionate to all.
While the Presidential Executive Order issued June 20, 2018 demonstrates that widespread, sustained religious, political and civic protest can have an impact, it does not solve the problem. It does not include any plan to reunite more than 2000 children who have already been forcibly separated from their parents, but leaves those children lost in a massive human rights nightmare. And it leaves in place the "zero-tolerance policy," allowing children with their parents to be held in family prisons, perhaps indefinitely.
We hereby insist that our government immediately reunite those children and parents who have been separated from each other and establish a humane and expeditious process for immigrants crossing the border to apply for asylum. We call on government officials to listen deeply to the stories of these immigrants, to open their hearts to our common humanity, and to find a more compassionate and comprehensive approach to reforming our immigration system. We speak out in the name of all our Steering Committee members and their congregations of many faiths.
Many religious leaders and communities have decried the policy of separating parents and children, and now imprisoning both. Read below for a list of statements, and possibilities for action. Click here for a careful explanation of the June 20, 2018 Executive Order by the Friends Committee on National Legislation (Quaker).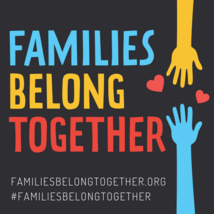 Action Opportunities
"5 Ways to Take Action Against Family Detention" from American Friends Service Committee (Quaker), June 21, 2018
Includes graphics to download for signs and social media.
MVPJ Colleagues at the Border
Rabbi Amy Eilberg, a member of MVPJ, went to the border south of San Diego June 22-24 with PICO California, a multifaith organization. Read her reflection, "You are Not Alone" by clicking here to access her blog.
Rev. Frannie Hall Kieschnick, a member of MVPJ, is part of a Faith in Public Life delegation of 12 women of faith traveling to McAllen, Texas, to bear witness to the experiences of immigrant families and raise their stories for the nation to hear. Please follow them along @Revfhk1 and @FatihPublicLife on Facebook and Twitter. Click here to read Rev. Frannie Hall Kieschnick's statement about why she is going and what the delegation will be doing.
Statements from Religious Leaders and Communities
"Migration is Sacred - End All Forms of Incarceration" Statement from the Interfaith Movement for Human Integrity (June 22, 2018)
United Methodist Clergy and Laity Bring Church Law Charges Against Attorney General Jeff Sessions, a United Methodist Church member (June 18, 2018)
Roman Catholic Diocese of San Jose's Bishop's Statement on Separating Families (June 18, 2018)
The Shalom Center (Jewish), "Families Torn Apart: A Lightning-Flash of Cruelty in Power" by Rabbi Arthur Waskow (June 20, 2018)
The Shalom Center (Jewish) Updated Statement: "Family Reunification Now" (June 22, 2018)
Enough is Enough: Statement and Resources from Council on American Islamic Relations-SFBA Executive Director Zahra Billoo, Esq. (June 21, 2018)
American Baptist Churches USA General Secretary's Letter to Attorney General Sessions (June 15, 2018)
United Church of Christ (UCC) Leaders: Keep Families Together (June 15, 2018)
Presbyterian Church USA Office of Public Witness Statement and Action Alert (June 19, 2018)
Before "Zero Tolerance" We Called It "Betraying Family Values" (June 8, 2018 from Lutheran Immigration and Refugee Service)
Not in our Name: Pax Christi USA (Roman Catholic) Statement on Vile Treatment of Immigrants (June 15, 2018)
Unitarian Universalist Statement "We Must be Bold in our Resistance" (May 31, 2018)
Friends Committee on National Legislation (Quakers), "Trump's Executive Order on Family Separation, Explained" (June 21, 2018)
Faith Leader Statement on Family Separation (June 13, 2018; signed by diverse faith leaders)
(photo of immigrant children from weareoneamerica.org)