Sept. 11 Multifaith Peace Picnic and Prayers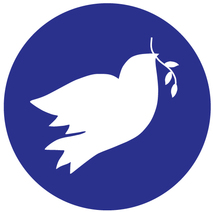 Mark this day for peace, justice and hope!
Tuesday, September 11, 7-8:30m
King Plaza, 250 Hamilton Ave., Palo Alto
Multifaith Peace Picnic - 7pm.

Sponsored by American Muslim Voice, MVPJ and many other Peace Partners
Food, friendship, and a short program including children singing and messages of hope and inclusion
Multifaith Peace Prayers - 8pm
A brief service of prayers, music and rituals from diverse faith traditions, marking the end of the Jewish Holy Days of Rosh Hashanah at 8:11pm, and concluding by 8:30pm with a candlelight vigil.
Everyone welcome!
RSVP:
The event is free and open to all, but
your RSVP for the picnic will really help us plan
! Please let us know you are coming by
clicking on this Eventbrite page
!
VOLUNTEER FOR SET-UP and/or CLEAN-UP
:
Click here
to volunteer to help with set-up from 6:30-7pm and/or clean-up 8:30-9pm! We need a few people to arrive by 6:30pm (please allow ample time for parking, which can be a challenge!) to help set-up chairs and tables, etc., and others to stay after the program to stack chairs, gather recylcing and garbage, etc. Thank you!
Cohosts include: All Saints Episcopal Church, Palo Alto; American Muslim Voice; Anjuman-e-Jamali (San Jose Muslim Organization); Baha'i Community of Palo Alto; Bend the Arc: A Jewish Parnership for Justice, South Bay Chapter; Berkeley Masjid (Mosque); Congregation Beth Am, Los Altos; Congregation Etz Chayim, Palo Alto; Council on American Islamic Relations (CAIR), San Francisco Bay Area; First Baptist Church, Palo Alto; First Congregational Church, Palo Alto; First Lutheran Church, Palo Alto; First Presbyterian Church, Palo Alto; First United Methodist Church, Palo Alto; Human Concerns Committee of St. Thomas Aquinas Catholic Parish, Palo Alto; Keddem Congregation; MVPA (Mountain View/Palo Alto) Musalla (Muslim Mosque); Muslim Community Association of the San Francisco Bay Area; Oshman Family Jewish Community Center; Palo Alto Buddhist Temple; Peninsula Solidarity Network; Region 7, Sathya Sai International Organization USA; SiVIC (Silicon Valley Interfaith Council); South Bay Islamic Association; SPARK Church, Palo Alto; St. Mark's Episcopal Church, Palo Alto; Stanford Memorial Church and the Office for Religious Life; Trinity Church in Menlo Park (Episcopal); Unitarian Universalist Church of Palo Alto; Unitarian Universalist Fellowship of Los Gatos; Unitarian Universalist Fellowship of Sunnyvale, Social Justice Team; University AME Zion Church, Palo Alto; University Lutheran Church, Palo Alto.

If your community, organization or congregation would like to join us and 30 other local groups in cohosting this event, contact Diana at diana@multifaithpeace.org.