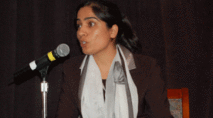 Prospects for Afghan Women and Non-Intervention in My Country
Friday, Oct 18, 7:30pm
Friends Meeting House, 957 Colorado Ave., Palo Alto
Click here for details.
Malalai Joya spoke out publicly against domination by warlords in 2003. She was one of 68 women elected to the Afghan National Assembly in 2005. A remarkable young woman raised in refugee camps in Iran and Pakistan, she became a teacher in secret girl's schools under the Taliban.