Multifaith Peace Walk & Picnic: A Sign of Hope & Friendship!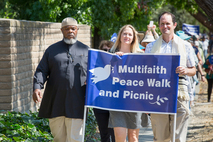 Imam Faheem Shauibe, Rev. Danielle Parish (Spark Church) and Rabbi Chaim Koritzinsky (Congregation Etz Chayim) led the beginning of the Multifaith Peace Walk on Sunday, Sept. 11, 2016. The event opened with more than 750 participants singing songs of peace in Arabic, Hebrew and English with drums and guitars, readings from Jewish, Muslim and Christian scriptures, face painting for children, youth making signs saying "Peace" - "Salaam" - "Shalom," and a ritual of friendship that included Palo Alto Police Department Chief Dennis Burns with local and national faith leaders.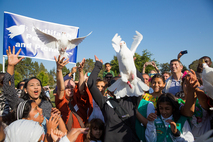 After a 2.5 mile walk and other brief programs on peace, the community gathered for a picnic that began with the release of peace doves in Mitchell park. The picnic, hosted by American Muslim Voice, allowed time for creating new friendship, more singing and dancing, and stories of peace making internationally as well as at home.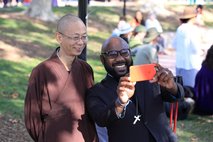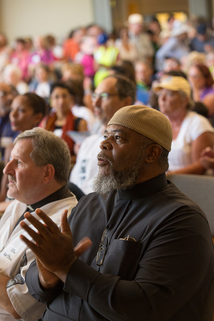 Fr. Matthew Stanley of St. Thomas Aquinas Catholic Parish sits next to Imam Faheem Shauibe during one of the programs.