"DISARM NOW" Action August 9, Nagasaki Day, 2016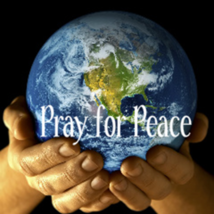 Tuesday, August 9, 8am
Livermore Nuclear Weapons Laboratory at Vasco & Patterson Pass Roads, Livermore
On the 71st anniversary of the U.S. atomic bombings of Hiroshima and Nagasaki, Multifaith Voices for Peace & Justice joins with the Livermore Conversion Project and other peace, justice, faith and environmental groups to encourage you to stand with Japanese Hibakusha (A-bomb survivors), Pacific Islanders and others impacted by deadly nuclear weapons to proclaim "Never Again."
Music, speeches, drummers, art and more will be followed by a short procession to the Livermore Nuclear Weapons Lab gates where those who choose will peacefully risk arrest in a nonviolent action.
Click here to download a flyer with more information.

Seventy-one years ago, the U.S. dropped the first atomic bomb used in war on the people of Hiroshima. Three days later, on Aug. 9, 1945, the U.S. detonated a second atomic bomb over Nagasaki. Nobuaki Hanaoka was a baby. His mother and sister died from radiation exposure when he was a child. His brother died at 39 of premature aging. Hanaoka, now a retired Bay Area minister, will join us at the gates of Livermore Lab to "prevent another Nagasaki tragedy from happening anywhere in the world."
Seventy years ago, in the summer of 1946, the U.S. began a series of 67 nuclear tests on the people of the Marshall Islands, the last of which took place on Aug. 18, 1958. The largest was "Bravo," a 15-megaton H-bomb detonated in 1954. Tony deBrum was nine years old. He recalls, "It was in the morning and my grandfather and I were out fishing… Everything turned red: sky, the ocean, the fish, my grandfather's net. People in Rongelap claim they saw the sun rising from the west." The boy grew up to become the Marshall Island's Foreign Minister. Today, deBrum represents his country in its historic lawsuits against the world's nuclear-armed nations for their failure to disarm as required by the Non-Proliferation Treaty and customary international law. He is also the Marshall Islands' special emissary on climate change.Tony deBrum will be with us on August 9.

The rally begins Tuesday at 8 am . A short march to the West Gate is scheduled at 9 am. We gather at the Lab where scientists are developing a new, more precise, stealthy Long-Range Stand Off nuclear warhead. On this solemn day, we ask you to bring the power of your presence to Livermore Lab and say "Never Again" to nuclear weapons and war.