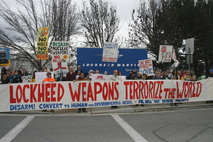 Friday, September 25, 12Noon
Lockheed Space Systems in Sunnyvale
Mathilda Avenue and Lockheed Martin Way, Sunnyvale

September's Week of Action will see hundreds of Campaign Nonviolence actions across the nation. Those of us who live near San Francisco need look no further than Lockheed Martin in Sunnyvale to find one of the world's deadliest purveyors of destruction - the largest manufacturer and exporter of military weapons, proudly providing the tools necessary for today's "warfighter."
The Pacific Life Community, Multifaith Voices for Peace and Justice and others invite you to attend this vigil where people will silently and nonviolently stand in witness against the violence, destruction and death perpetrated from this place.
Click here to download a flyer with more information.