Campaign Nonviolence National Conference
Embracing the Nonviolence Shift
Marking the 75th Anniversary of the bombing of Hiroshima and Nagasaki
August 6: Online Vigil for Hiroshima and Nagasaki (5pm PDT)
August 7: Online Nonviolence Training (12Noon PDT)
August 8: Online Conference (9am PDT)
CLICK HERE for full 3 day schedule and list of speakers.
Experience the wisdom of nonviolence visionaries, scholars and practitioners
Hear of concrete pathways to build a transformed world -- a world free of racism, poverty, war and environmental crisis.
In this time of great transition ushered in by a worldwide crisis, nonviolence offers us what we need right now: vision, strategies and practices that will equip us to live and lead in the direction of personal and societal transformation.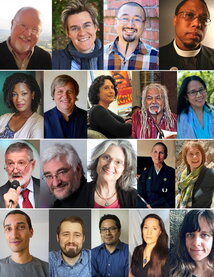 Featured speakers include Dr. Ira Helford, MD (Steering Committee of the International Campaign to Abolish Nuclear Weapons (ICAN) which was the recipient of the 2017 Nobel Peace Prize), Roshi Joan Halifax (Upaya Zen Center), Rev. Lennox Yearwood, Jr. (minister, activist, President and CEO of the Hip Hop Caucus), Rev. Richard Rohr (Center for Action and Contemplation, theologian, religious leader, author, Franciscan priest), Dr. Erica Chenowith (Harvard University, social scientist and scholar on nonviolence), and many others. Click here for full list of speakers.
Registration Information:
August 6 Vigil - Free but registration required
August 7 Nonviolence Training - $20
August 8 Conference - $50
Student discounts 50% and other scholarships available.
CLICK HERE TO REGISTER.