Thursday, June 22 2006 @ 09:58 pm

Views: 7,697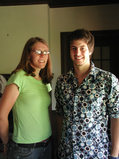 Late in the afternoon of Friday, September 1, 2006, U.S. District Judge Raner C. Collins, presiding from a federal courtroom in Tucson, Arizona, dismissed all charges against Shanti Sellz and Daniel Strauss, two volunteers with the Tucson No More Deaths Coalition, a faith- and community-based alliance.

Multifaith Voices for Peace And Justice has been following their story and advocating on their behalf for many months now. This is a major victory for decency and fairness and reminds us that our hearts must be ruled by compassion for others, not fear OF the others. Below is a story written about these two volunteers and how they faced prosecution for helping to save the lives of three dying migrants.