Mark the 8th anniversary of the U.S. war in Iraq - a war that continues in its destructive violence on the ground, as well as in the physical, emotional, moral and spiritual suffering inflicted on the Iraqi people, U.S. military personnel, and families of fallen soldiers. According to Iraq Body Count, there were 4,036 Iraqi civilian deaths by violence in 2010. Also in 2010, sixty U.S. military were killed in Iraq. For the second year in a row, the U.S. military has lost more troops to suicide than it has to combat in Iraq and Afghanistan. Coalition deaths in Afghanistan for 2010 were 711. The war goes on...
Camilo Mejia, the first U.S. veteran of the Iraq war to publicly refuse further service, will speak in Palo Alto on Sunday, March 20, 4pm at the Unitarian Universalist Church in Palo Alto, 505 E. Charleston Road. The panel responding to Mejia will include:
Karen Meredith - Gold Star Mother whose son 1Lt. Ken Ballard was killed while serving in Iraq;
Ben Daniel - Presbyterian minister and writer of faith-based social and political commentary; and
Paul George - director of the Peninsula Peace and Justice Center.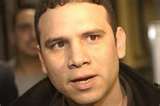 "I was afraid of waking up one morning to realize my humanity had abandoned me. ... By putting my weapon down, I chose to reassert myself as a human being. ... Refusing and resisting this war was my moral duty." -- Camilo Mejia
Sunday, March 20, 4pm
Unitarian Universalist Church of Palo Alto Main Hall
505 E. Charleston Ave., Palo Alto
Click "read more" to learn more about Camilo Mejia, see how to order his book, and download flyers.