Campaign Nonviolence: Another World Is Possible!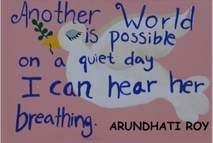 Peace Potluck Picnic
Sunday, September 28, 4-6:30pm
First Congregational Church
1985 Louis Rd., Palo Alto, 94303
~share what we have learned
~discern how to move forward together
~enjoy food and friendship
~hear inspiring stories of creative nonviolence in Afghanistan
~begin - now - to build another world of peace, justice, and environmental healing
Cosponsored by Peninsula Peace & Justice Center, Pacific Life Community, American Muslim Voice, and the Network for Spiritual Progressives
Featured Speaker:
Kathy Kelly
"Moving Forward with Campaign Nonviolence and Afghanistan"
Peace activist Kathy Kelly has just returned from the summer in Afghanistan as a guest of the Afghan Peace Volunteers. Grounded in her Catholic upbringing, her courageous actions have long demonstrated a deep passion for peace, justice and human kindness.
Kelly and others lived in Baghdad during the 2003 "Shock and Awe" attack. In 2009 she lived in Gaza during the final days of the Operation Cast Lead bombing. Later that year she was part of a small delegation that went to Pakistan to learn more about the effects of U.S. drone warfare on the civilian population. She continues to join activists in various regions of our country to protest drone warfare.
Kelly is co-founder and co-coordinator of Voices for Creative Nonviolence (VCNV). She is the author of Other Lands Have Dreams: From Baghdad to Perkins Prison (2005). She and VCNV believe that nonviolence necessarily involves simplicity, service, sharing of resources and non-violent direct action in resistance to war and oppression.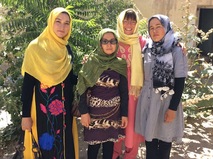 During this past summer Kathy Kelly (Voices for Creative Nonviolence) and Sherri Maurin (NorCal coordinator for Campaign Nonviolence) lived in a working class neighborhood in Kabul as guests of the Afghan Peace Volunteers (APV). They worked at APV's newly opened Borderfree Community Center for Nonviolence, which offers sessions focusing on a wide range of topics related to militarism, enviornmental concerns, and socioeconomic inequalities. This summer's trip was the most recent of 9 such visits for Kelly. She and her colleagues are determined not to let war sever the bonds of friendship between them and the Afghan people they have come to know well. Voices for Creative Nonviolence believes that "where you stand determines what you see." We will have the unique opportunity to hear what one sees when standing next to our sisters and brothers in Afghanistan today.
Click here to learn more about the Afghan Peace Volunteers "Journey to Smile" by visiting their blog.
Sherri will bring blue scarves made by the Afghan Peace Volunteers to symbolize the one blue sky under which we all live. Scarves say "Borderfree" in English and Pashto. These will be on sale for $15-20 each. All proceeds will go back to the APV.
The Afghan Peace Volunteers call for a cease-fire on the part of all warring parties and believe that every country that has invaded Afghanistan should pay reparations for suffering they caused.
"Instead of conducting drone strikes and pursuing more military solutions to world conflicts, the United States and other powerful nations of the world should take responsiblity for their past war crimes and destruction in countries like Afghanistan," says Kelly. "One way to approach atonement would be to provide reparations, dispersed by an independent body such as the United Nations General Assembly. Reparations could fund projects decided on by local communities and might take the form of food aid, water filtration, housing construction, soild renewal, sanitation, mine disarmament or medical outreach."
To learn more about Kathy Kelly see her biography on the Voices for Creative Nonviolence website.