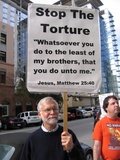 Join us in marking the 22nd Anniversary of the UN Convention Against Torture!
Torture is a Moral Issue Panel: Friday, June 26, 7:30pm
First Presbyterian Church, 1140 Cowper, Palo Alto
Ray McGovern, former CIA analyst now with Church of the Savior in Washington, D.C.;
Jean Maria Arrigo, social psychologist working to deter use of torture;
Rev. Ben Daniel, pastor and writer of faith-based social and political commentary; with
David DeCosse, Markkula Center for Applied Ethics at Santa Clara University, moderating; and
John Crigler performing his composition, "Lament of an Army Interrogator."
PLUS SPECIAL GUEST Terrence Karney, former Army Interrogator and Trainer.

Torture is a Moral Issue Conference: Saturday, June 27, 9am-5pm
First United Methodist Church, 625 Hamilton, Palo Alto
Rev. Carol Wickersham, founder of No2Torture & on the board of the National Religious Campaign Against Torture;
Terrence Karney, former Army Interrogator and Trainer;
Janet Alexander, Stanford Law School Professor and expert in international and national security and terrorism;
Center for Survivors of Torture Speaker;
Banafsheh Akhlaghi, Amnesty International-USA Western Regional Director;
more time with Friday panelists;
plus workshops, multifaith worship & opportunities for action.

For more information about the event, click here.
Click here to download flyers for panel & conference.