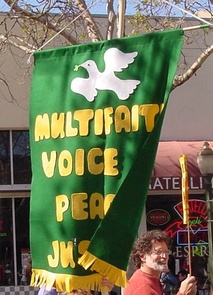 Multifaith Voices for Peace and Justice was formed in March 2003 before the United States began the war in Iraq. Since then, we have devoted our efforts to the elimination of war, torture, injustice, and reduction of civil liberties, all guided by the core values of each of our faith traditions. We have prayed, marched, sung, worshiped, advocated, laughed, cried, lamented, protested, served, studied and vigiled on street corners, city plazas, and in mosques, synagogues, churches, meeting houses and parks. We have met with our congress people and learned from our religious leaders. Through it all, we have built strong relationships of trust and respect. In many ways, we have become a community of sisters and brothers across faith lines.
Click here to download a history of our efforts and activities over the past 10 years.
Now we want to take this 10-year anniversary to reflect on actions, the effect we've had on our community and the world, and to think and pray about what we are called to do next.
On Tuesday, October 10, 2013 at 5:30-7:30pm MVPJ will host a gathering of community social justice faith leaders to do just that. If you are interested in attending, please contact Chris Lundin at clundin@stanford.edu for details.