Nuclear Weapons & Prophetic Protest & "The Nuns, the Priests and the Bombs"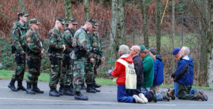 Nuclear Weaponse and Prophetic Protest:
A screening of the documentary will take place earlier that afternoon, 2-3:30pm also in SCU's St. Clare Room.
The panel will include:
Helen Young, filmmaker of "The Nuns, the Priests and the Bombs," and Emmy award-winning broadcast journalist;
Jackie Cabasso, nuclear disarmament advocate, international speaker and expert, and Executive Director of the Western States Legal Foundation;
Plowshares faith-based activists featured in the film; and
moderator Tony Cortese, Director of Ignatian Spirituality at Santa Clara University.

Both events are free and open to the public.
(There is a fee for on-campus parking, however Caltrain stops right across the street from the University, so consider that as a good option!)
For more information about the documentary and how to rent or buy it, click here.
To register to attend via Zoom (required for Zoom link) click here. A link for joining via Zoom will be sent to you before the event.