Multifaith Prayers for Peace on 11th of the Month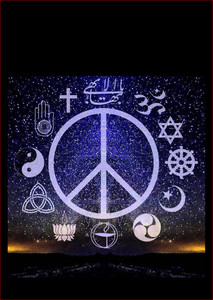 Monthly Multifaith Prayers for Peace
7-7:30pm on 11th of every month
NEXT GATHERING: Tuesday, February 11, 7-7:30pm, Unitarian Universalist Church of Palo Alto, 505 E. Charleston Road, Palo Alto, 94306
In the midst of difficult times, Multifaith Voices for Peace and Justice will host "Peaceful Presence," a monthly prayer service on the evening of the 11th of each month, offering a time of quiet multifaith prayers for peace and strength for the journey. All are welcome: those of all faith traditions and of no defined faith, those who are suffering at the hands of their own government, those who need a pause in the midst of intensive work on behalf of others, and all who would like to pray with others for the well-being of all. The prayer time will include elements from several religious traditions.
Upcoming:
Tuesday, February 11, 7-7:30pm, Unitarian Universalist Church of Palo Alto, 505 E. Charleston Road, Palo Alto, 94306
Wednesday, March 11, 7-7:30pm, First Congregational Church of Palo Alto, 1985 Louis Road, Palo Alto 94303
Saturday, April 11, 7-8pm, Palo Alto Buddhist Temple, 2751 Louis Road, Palo Alto 94303 NOTE: In the Buddhist tradition, April 12 is the "Flower Festival Service" (or "Hanamatsuri Festival") to honor the birth of Prince Siddhartha Gautama who later became the Buddha. We are particularly delighted that the Palo Alto Buddhist Temple is incorporating our Multifaith Peaceful Presence in this celebration! In light of the special occasion, the service may last 45-60 minutes, rather than our usual 30 minutes.

Each month we will meet at a different place of worship.
If you want to be sure to be notified of future services, please enter your email in the upper right corner of this website, in the box marked "Receive Email Updates."