Human Rights for All: A Multifaith Call to Action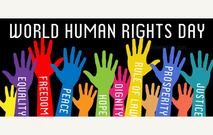 Join us on the Eve of World Human Rights Day, for
Human Rights for All: A Multifaith Call to Action
Thursday, December 9, 7pm
First United Methodist Church
625 Hamilton Ave., Palo Alto
The gathering will be in-person with COVID safety requirements and also streamed via youtube.

We will come together from diverse faith and spiritual traditions to stand in solidarity for the human rights of our all people, locally and globally.
In light of multiple hate messages and incidents in our local community, including some personally threatening individuals and community leaders, we will gather on the Eve of World Human Rights Day to say NO to hate and YES to the dignity and worth of every human being.
"Where, after all, do universal human rights begin?
In small places, close to home -- so close and so small that they cannot be seen on any maps of the world. ...
Unless these rights have meaning there, they have little meaning anywhere.
Without concerted citizen action to uphold them close to home, we shall look in vain for progress in the larger world."
- Eleanor Roosevelt
COVID safety guidelines:
Participants at the in-person gathering are required to follow these COVID SAFETY practices:
Wear a mask (covering nose and mouth) and show proof of vaccination.
All singing will be masked. Only speakers, standing more than 10' away, will be unmasked.
Virtual attendance will be available via youtube. Watch for details.
Click here to use our Facebook page to invite others!
Cosponsors include: First United Methodist Church, American Muslim Voice, Congregation Beth Am, Youth Community Service, Spark Church, First Congregational Church of Palo Alto UCC, Unitarian Universalist Church of Palo Alto, St. Mark's Episcopal Church, Asian Law Alliance, First Presbyterian Church of Palo Alto, Congregation Kol Emeth, Palo Alto Buddhist Temple, Jewish Community Relations Council, Kehilah Community High School, Social Justice Team of the Unitarian Universalist Fellowship of Sunnyvale, and more coming!
If your congregation or organization would like to be a cosponsor, click here; to add your Facebook page as a co-host, indicate your Facebook url on the above form or send it to info@multifaithpeace.org, and we will invite you to cohost.
Please help spread the word!
More information coming soon.