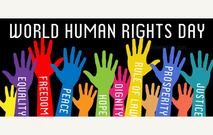 On the Eve of World Human Rights Day:
Human Rights for All: A Multifaith Call to Action
Thursday, December 9, 7pm
First United Methodist Church
625 Hamilton Ave., Palo Alto
The gathering was in-person with COVID safety requirements* and also streamed via youtube.

We came together from diverse faith and spiritual traditions to stand in solidarity for the human rights of all people, locally and globally.
Missed it? Want to hear it again? Watch the event on youtube anytime!
Click here to view the wonderful pictures by ProBono Photo. Thank you ProBono!!
Click here to see ABC7 News coverage and interviews.
In light of multiple hate messages and incidents in our local community, including some personally threatening individuals and community leaders, we gathered on the Eve of World Human Rights Day to say NO to hate and YES to the dignity and worth of every human being.
Confirmed Speakers:
Rev. Dr. Debra Murray, Senior Pastor of First United Methodist Church & MVPJ Steering Committee Member
Click here to link to Rev. Murray's bio
Caryn Cranston, SEEDS (helping homeless & street youth) Outreach Coordinator
Click here to download Caryn Cranston's bio
Imam Shaykh El Bakri - Khateeb at Saratoga Masjid (West Valley Muslim Association Mosque)
Click here to link to Imam El-Bakri's bio
Lydia Kou, Palo Alto City Council Member
Rabbi Sheldon Lewis - Rabbi Emeritus of Congregation Kol Emeth & former MVPJ Steering Committee Member
Click here for link to Rabbi Lewis' bio
Rev. Gerardo Garcia Palacios, Chaplain/Spiritual Care Provider and PCUSA Minister
Click here to download Gerardo Garcia's bio; Click here to download Rev. Garcia's speech
Rev. Dr. Sakena Young-Scaggs, Senior Associate Dean for Religious & Spiritual Life at Stanford, and Pastor of Memorial Church
Click here to link to Rev. Young-Scagg's bio

"Where, after all, do universal human rights begin?
In small places, close to home --
so close and so small that they cannot be seen on any maps of the world. ...
Unless these rights have meaning there, they have little meaning anywhere.
Without concerted citizen action to uphold them close to home,
we shall look in vain for progress in the larger world."
- Eleanor Roosevelt
Click here to use our Facebook page to invite others!
Cosponsors:
First United Methodist Church
American Muslim Voice Foundation
Congregation Beth Am
Youth Community Service
Spark Church
First Congregational Church of Palo Alto UCC
Unitarian Universalist Church of Palo Alto
St. Mark's Episcopal Church
Asian Law Alliance
First Presbyterian Church of Palo Alto
Congregation Kol Emeth
Palo Alto Buddhist Temple
Jewish Community Relations Council
Kehilah Community High School
Baha'i Community of Palo Alto
MVPA Musalla (Mountain View/Palo Alto Muslim Community)
Social Justice Team of the Unitarian Universalist Fellowship of Sunnyvale
Oshman Family Jewish Community Center
Bend the Arc: Jewish Action South Bay
University Lutheran Church
Work in the World Comm. of Palo Alto Friends Meeting (Quarker)
Congregation Beth Jacob (Redwood City)
Congregation Etz Chayim
Reach and Teach Book Store (San Mateo)
Unitarian Universalist Fellowship of Los Gatos
First Lutheran Church of Palo Alto
United Campus Christian Ministry at Stanford
SEEDS Outreach (helping homeless youth)
Center for Common Ground/Peninsula-South Bay Chapter
SURJ@Sacred Heart
Reclaim Our Vote
Unitarian Universalist Fellowship of Redwood City, Social Action Committee