COVID-19 Call-in Campaign CALL TODAY LIBERATE TOMORROW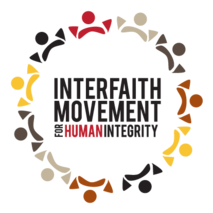 From the Interfaith Movement for Human Integrity:
A coalition of over 60 legal service providers and community organizations in California sent a letter to U.S. Immigration and Customs Enforcement (ICE) and the administrators of local ICE detention facilities demanding that they release all individuals held at the Mesa Verde Detention Facility and the Yuba County Jail, starting with those who are at highest risk.
As city and state governments take drastic measures to slow the spread of COVID-19, this letter adds to the chorus of community organizations across the country calling for the release of incarcerated people.
Use your faith voice and share your faith values when you call and email David Jennings, Acting Field Office Director, and demand that ICE release all people from detention, beginning with the most vulnerable.
Some people have experienced difficulty with phone calls, please do not feel discouraged. Send an email, if the phone is not accessible.
CALL David Jennings (Acting Field Office Director, ICE) Keep reading more suggested script.

David.W.Jennings@ice.dhs.gov
415-844-5503 or 415-844-5551
Click here to read MVPJ's article about NEVER AGAIN ACTION Campaign, similar to this one, pressuring governors to use their emergency executive power to order the release of immigrant detainees in their states.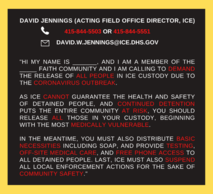 Thank you!