NEVER AGAIN ACTION
"Anne Frank didn't die in a gas chamber. She died because she caught a contagious disease in a concentration camp. We have seen this before. We won't let it happen again. Never again is now." (Never Again Action)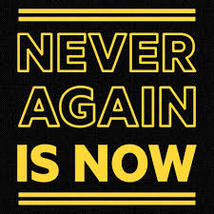 ACTION ALERT FROM NEVER AGAIN: Call or email Governor Newsom's office today and say: "Hi, My name is [name], I'm a [state] resident living in [city]. The detention centers in our state are going to become death camps for the immigrants locked inside, unless Governor _______ uses his/her emergency powers to release them immediately. Will the governor empty the detention centers today?" Click here for Office of Governor Gavin Newsom's webpage with phone number and email form.
Never Again Action, a movement of Jews, allies and immigrant partners, reminds us, "Deadly outbreaks in detention centers; it's a matter of if, not when. UNLESS our governors use their emergency powers to empty the detention centers in their state, before they become de facto death camps."
"We call on governors across the country to use their emergency executive power to order the release of all immigrant detainees in their states. Protect immigrants from this virus, for their safety and for public health. We hope that our governors will choose the path of morality AND public safety. If they don't, we will pressure them until they do."
Click here for more information about Never Again Action.