Multifaith Prayers for Peace on 11th of the Month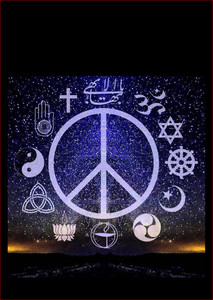 Monthly Multifaith Prayers for Peace
7-7:30pm on 11th of every month
NEXT GATHERING: Saturday, April 11, 7-7:30pm - Join together via ZOOM (more information coming). Hosted by the Palo Alto Friends Meeting House
In the midst of difficult times, Multifaith Voices for Peace and Justice will host "Peaceful Presence," a monthly prayer service on the evening of the 11th of each month, offering a time of quiet multifaith prayers for peace and strength for the journey. All are welcome: those of all faith traditions and of no defined faith, those who are suffering at the hands of their own government, those who need a pause in the midst of intensive work on behalf of others, and all who would like to pray with others for the well-being of all. The prayer time will include elements from several religious traditions.
Upcoming:
Saturday, April 11, 7-7:30pm - hosted by the Palo Alto Friends Meeting House. Join us via ZOOM (more information coming)
Monday, May 11, 7-7:30pm - First Lutheran Church, 600 Homer St., Palo Alto, 94301
Thursday, June 11, 7-7:30pm - MVPA Musalla Islamic Center of Palo Alto, 849 #C Independence Ave., Mountain View

Each month we will meet at a different place of worship.
If you want to be sure to be notified of future services, please enter your email in the upper right corner of this website, in the box marked "Receive Email Updates."