Pope Francis Supports Abolition of Nuclear Weapons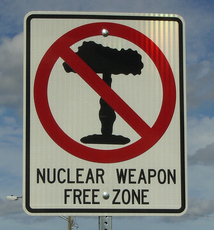 On December 8, at a conference in Vienna, Pope Francis issued a new statement on nuclear weapons titled "Nuclear Disarmament: Time for Abolition" that indicates a major change in Roman Catholic policy. "Nuclear deterrence and the threat of nuclear assured destruction cannot be the basis for an ethics of fraternity and peaceful coexistence among peoples and states," the Pope said. While the Roman Catholic Church has long declared the use of nuclear weapons to be immoral, it has, up until now, articulated a "conditional acceptance" of nuclear deterrence as a necessary evil. This changes with the Pope's message, which was read on the first day of the Humanitarian Impact of Nuclear Weapons conference in Austria.
The Vatican's statement declares, "The youth of today and tomorrow deserve far more.... Peace must be built on justice, socio-economic development, freedom, respect for fundamental human rights, ... and the building of trust between people."
You can learn more about this exciting development in the article by Kevin Clark, "Church in Dramatic Revision of Nuclear Weapons Stance" in the Catholic magazine, America. Sojourner's blog spot also features a piece by Jim Rice, "Vatican on Nuclear Disarmament: Time for Abolition".
Thanks to the Nuclear Age Peace Foundation's wagingpeacetoday.blogspot.com for the image.