Support the NO BAN Act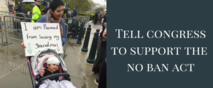 Multifaith Voices for Peace & Justice invites you to join us and people of faith across the nation in expressing strong support for the NO BAN Act (National Origin-Based Antidiscrimination for Nonimmigrants Act). The NO BAN Act is meant to repeal the Muslim Bans and the asylum ban, restrict the President's ability to enact future bans, and outlaw discrimination in the entry of immigrants or nonimmigrants based on religion. Congress will likely be introducing the bill in the coming weeks, and we need a national groundswell of support for this!
"We are called by our sacred texts and faith principles to love our neighbor, accompany the vulnerable, and welcome the sojourner. In keeping with these principles, as well as with the highest ideals of the nation we call home, we urge our members of Congress to support the No Ban Act. This Act will lead the way for more inclusive and just immigration policies that will benefit both not only those seeking refuge in a time of dire need, but also will benefit our nation and the world as a whole, as we model inclusion, justice, and freedom for all."
You can support this effort by adding your name and/or the name of your congregation to a petition (open for anyone to sign), an interfaith letter from faith leaders, and/or an interfaith letter from faith organizations. Please sign by Monday, April 8th!
The petition and letters are initiated by Shoulder-to-Shoulder, an organization that stands with American Muslims and works with people of all faiths to address anti-Muslim discrimination and violence.
The NO BAN Act is led by Senator Chris Coons (D-DE) and Representative Judy Chu (D-CA).