Hands Around the Mosque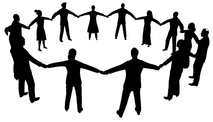 Muslim Community Association
3003 Scott Blvd., Santa Clara, CA
Sunday, March 19, 4-6:30pm
Join with people of many faiths and walks of life, neighbors from near and far, for this Hands Around the Mosque event sponsored by American Muslim Voice and the Muslim Community Association of Santa Clara. Religious and community leaders will offer brief remarks as we stand in solidarity with our Muslim sisters and brothers.
Bring your whole family, friends and nieghborhood! This is a family event, and children are welcome! Tea and snacks will be provided.
Faith leaders are kindly requested to wear their religious attire for the event.
Please RSVP via Eventbrite by clicking here. This is very helpful for our planning, but not required. Also, please carpool if possible!
Strong multifaith and community participation will make this a meaninful and powerful gathering for everyone! Please spread the word!
Let us send a profound and sacred message of our unity to the world as affirm our commitment to stand by and support one another.