Breaking the Silence: Remembering the Words of Rev. Dr. Martin Luther King, Jr.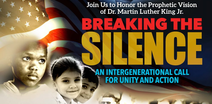 Breaking the Silence: An Intergenerational for Unity and Action
Monday, April 4, 2022
On April 4, 1967, Rev Dr. Martin Luther King, Jr., at the Riverside Church in New York City, spoke out powerfully against the Vietnam War, and much else the plagues our country. His words, "A time comes when silence in betrayal, and that time has come for us," is the foundation for the mission of Multifaith Voices for Peace and Justice.
King's historic speech still calls to us today to urgent action to eradicate racism, militarism and poverty.
CLICK HERE for a youtube recording of a LOCAL READING OF KING'S SPEECH featuring peninsula and south bay faith and community leaders. Readers associated with MVPJ include Rev. Dean Koyama, Rabbi Sheldon Lewis, Rev. Dr. Debra Murray, Rabbi Amy Eilberg, Rev. Dr. Diana Gibson, and two members of Palo Alto Friends Meeting, Andrea Harman and Robin Severns. Multifaith Voices for Peace & Justice joined with the Women's International League for Peace & Freedom (San Jose and Peninsula Chapters), PACT, SiVIC, Peninsula Peace & Justice Center, San Jose Peace & Justice Center and others to produce this local reading of King's speech as part of the California Poor People's Campaign in preparation for the Poor People's Campaign visit to Los Angeles later this Spring.
"A nation that continues year after year to spend more money on military defense than on programs of social uplift
is approaching spiritual death."
Click here to read the speech and listen to a recording Dr. King's delivery of it at the Riverside Church in 1967.