Prayer of Mothers for Life and Peace
by Sheikha Ibtisam and Rabbi Tamar Elad-Appelbaum

God of Life
Who heals the broken hearted and binds up their wounds
May it be your will to hear the prayer of mothers
For you did not create us to kill each other
Nor to live in fear, anger or hatred in your world
But rather you have created us so we can grant permission to one another to sanctify
Your name of Life, your name of Peace in this world. ...
Click here to read the full prayer on a PDF with more information about the authors.
Click here to visit the Open Siddur Project webpage and read the prayer in Arabic, Hebrew and German.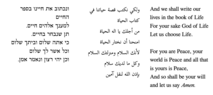 This prayer was shared with us by Rabbi Amy Eilberg during our Peaceful Presence gathering on October 11, 2023. While not written in response to the current tragedies in the Middle East, we found it relevant, moving and powerful for today.
Click here to download and read the full prayer with more information about the authors.