Interfaith Statement to Meeting for Prohibition of Nuclear Weapons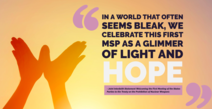 Joint Interfaith Statement Welcoming the First Meeting of the States Parties to the Treaty on the Prohibition of Nuclear Weapons (June 22 2022)
"As faith communities from a diversity of traditions and located all over the world, we join together with one voice to mark this first Meeting of the States Parties to the Treaty on the Prohbition of Nuclear Weapons. We welcome this historic occasion and celebrate this milestone that moves us closer to a world without nuclear weapons."
Multifaith Voices for Peace & Justice is honored to be an endorser of this statement along with religious communities of many traditions and from around the world. Click here to download statement and full list of endorsers.
The Statement was read aloud at the opening of the Meeting.
On the evening before the Meeting began, three new countries ratified the ban! Click on this ICAN twitter feed for more information.