Support Ukraine: Contribution Suggestions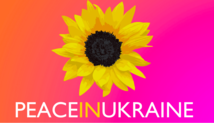 Below are some suggestions for faith-based programs supporting Ukraine and Ukrainian refugees, as well as some organizations recommended by our faith-based partners.
DONATIONS:
Valarie Kaur, an American interfaith leader from the Sikh Tradition and founder of the Revolutionary Love Project offers this curated list of organizations to support to help the people of Ukraine.
This statement from the Unitarian Universalist Service Committee includes helpful links to organizations that respond directly to the crisis.
CHILDREN: Voices for Children (from their website) has been helping Ukrainian children affected by the war since 2015. Currently providing assistance to affected children and families from all over the country, providing emergency psychological assistance, and assisting in the evacuation process.Our objective is that every child who has suffered from the war in Ukraine must get psychological help in time
REFUGEE SUPPORT:
This New York Times' "How You Can Help Ukraine" article (3/2/22) highlights four organizations they find especially worthy of contributions.