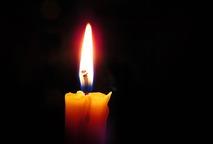 At our December 11, 2021 Peaceful Presence, Eric Sabelman of the Palo Alto Friends Meeting (Quarker) and MVPJ Steering Committee, offered the attached "Guided Meditation on Being Whole."
Simple -- and profound -- we offer it to you for whenever you need it.
"When you are done, what is left will be you, and only you.
You have the strength to hold what is needeful in your life, and discard what is not."
(end of meditation)

Maryam Mostaghimi from the Palo Alto Baha'i Community and also the MVPJ Steering Committee, offered this Báhá'i Prayer for Humanity, beginning, "Thou kind Lord! Thou hast created all humanity from the same stock. Thou hast decreed that all shall belong to the same household."
Multifaith Voices for Peace & Justice hosts Peaceful Presence gatherings on the 11th of every month. To receive notifications with details, use the box in the upper right corner of this website to sign up for our updates. (We will NEVER share you email with anyone!)