Solidarity Vigil Photos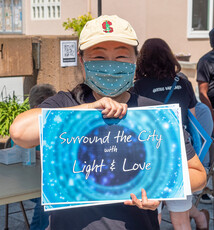 Sunday, August 29, 2021, people gathered to "Surround the City with Light and Love" in response to a series of hateful and racist incidents in our community, escalating in racist and threatening signs targeting the Rev. Dr. Debra Murray, Senior Pastor of First United Methodist Church of Palo Alto. We came together to pray - with our words and feet, our hearts and our lives - that we can be a community devoted to respect, dignity and safety for all people. You can download the inclusive prayer handout here.
Organized by Palo Alto faith leaders, people of many diverse traditions participated. While there is still much work to be done to foster a truly anti-racist, welcoming and liberating community, there is no doubt that, in Pastor Debra's words, "we set some powerful love and energy loose in the world" that afternoon!
The J-Weekly (Jewish News of Northern California) covered the event with this article.
We greatly appreciate Jack Owicki, ProBonoPhoto.org for the wonderful photographs documenting the event, including the one to the left, and those below in this article. Click here for the full photo gallery on the Pro Bono Photo website.