"White nationalism is the greatest threat to peace"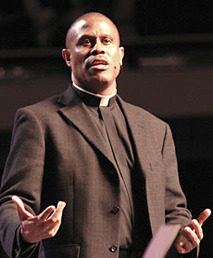 "White nationalism is the greatest threat to peace," Fr. Bryan Massingale, S.J., stated in accepting the Pax Christi USA 2021 Teacher of Peace Award.
Fr. Bryan Massingale, a Roman Catholic Jesuit priest, theologian, scholar, activist and professor, insisted that, "the greatest threat to peace in our time, both nationally and even internationally, is the rise of white nationalism." He explained this is so because white nationalism, "is intersectional, threatening social stability and human flourishing on multiple levels and fronts."
Massingale challenged Pax Christi -- and challenges all of us -- that we must not only be anti-war and pro-nonviolence. "You must also make explicit linkage between peacemaking, racism, consumerism, and ecological justice. And you have to be LGBTQ inclusive."
Referring to a quote from Albert Einstein, Massingale concludes his speech, "No problem can be solved from the level of consciousness that created it. We need new ways of thinking, living, loving. New ways of praying and being. This is the deepest call of our faith. We need to be contemplative witnesses of the possibilities of human transformation. ... For that to happen we need to be grounded in the Truly Real, in that Infinite Radical Love Who is deeper and bigger than we are." Finally, he invites us to recommit ourselves to what Martin Luther King, Jr. called, "the long and bitter - but beautiful - struggle for a new world."
Click here to read the entire press release from Pax Christi USA. On that page you can scroll down to access a video of Rev. Massingale's full speech. Click here to download a PDF text of the full speech.