For What Noble Cause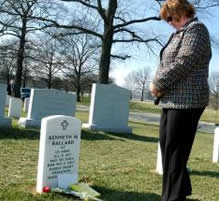 On the eve before Veterans Day, we will be hosting a worship service / teach-in entitled "For What Noble Cause." Our speakers will include Nadia McCaffrey and Karen Meredith, two members of Goldstar Families for Peace who lost their sons in the Iraq War.
Please join us at the First Baptist Church of Palo Alto (305 N. California Avenue) at 7:00pm on November 10th. We'll pray, sing, and hear letters and stories from the front, from as far back as the War of Independence through today's war in Iraq. Throughout the evening, the prayers, songs, and stories will beg the question "For What Noble Cause?"