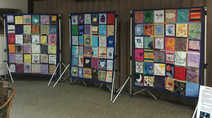 MVPJ has joined with several local organizations and congregations in sponsoring 3 months of local displays of The drones Quilt Project. The purpose of this effort is to raise awareness about the immoral and tragic use of weaponized drones by the United States, which is responsible for the injury and death of hundreds of people in Afghanistan and Pakistan. Each block of each quilt bears the name of a drone victim, and was created by a different individual, humanizing the victims and showing the connection between all human beings.
In Palo Alto, quilts will be on exhibit from January-March at various times in different congregations, including First Congregational Church, Unitarian Universalist Church, and two Catholic Churches. On Wednesday, January 13, 7pm there will be a display, reception and discussion featuring the quilts at the Los Altos Library. Click here for more information.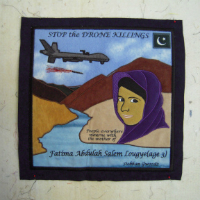 A full schedule of congregations hosting exhibits of the quilts will be available soon. If your congregation or organization would like to display one or more quilts for a week or an event, contact Diana Gibson at diana@multifaithpeace.org.