The Afghan Peace Duvet Project: Why not warmth?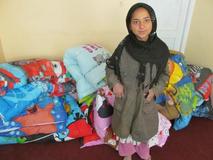 Two winters ago in Afghanistan, the New York Times reported the deaths of at least 22 children in refugee camps in Kabul: Driven Away by a War, Now Stalked by Winter Cold. After 13 years of U.S./NATO intervention in Afghanistan and US$1.172 trillion dollars spent on the Afghan war between 2001 and 2012, the basic needs of ordinary Afghans constantly caught in the crossfire are still poorly met.
The following winter the Afghan Peace Volunteers (APV) organized the making and distributing of duvets (blankets) to poor families in Kabul and in the refugee camps. Thanks to international peacebuilders who raised money from ordinary people around the globe, the APVs were able to distribute more than 2000 duvets, and the Afghan ladies who sewed the blankets were paid a living wage to supplement their families' income. In the winter of 2013/2014, 60 Afghan seamstresses were paid a living wage for sewing a total of 3000 duvets, again delivered free to poor Afghan families, street kids in Kabul, recovering drug addicts, widows, disabled, and to the refugee camps.
This year, you can help them do it again!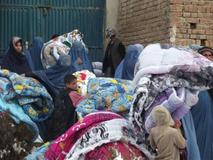 Your generosity will enable the Afghan Peace Volunteers to purchase supplies, rent space for storage, and pay living wages to Afghan women who make the blankets. Voices for Creative Nonviolence in the U.S. and U.K are raising funds for this effort.
You can donate to the Afghan Peace Volunteer's Winter Duvet Project via PayPal or by check. One hundred percent of the funds go directly to the project. Checks can be made out to Voices for Creative Nonviolence with "Duvet Project" in the memo line, and sent to Voices for Creative Nonviolence, 1249 W. Argyle St., Chicago, IL, 60640. To donate via PayPay, sign in to your PayPal account and submit the funds to email identity "theduvetproject@gmail.com".
To learn more about the project itself, visit the APVs Duvet Project blog by clicking here.
For more information on donating, or articles from Voices for Creative Nonviolence about this project, visit their website by clicking here.