Unity Rally in Palo Alto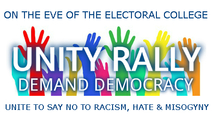 ON THE EVE OF THE ELECTORAL COLLEGE
UNITE TO SAY NO TO RACISM, HATE & MISOGYNY
SUNDAY, DEC. 18, 2PM, King Plaza (250 Hamilton Ave.) Palo Alto
Stop the deportations!
No Muslim watch lists!
Black Lives Matter!
Save our Planet!
Featured Speakers:
Judge ladoris Cordell, Retired Superior Court Judge
Zahra Billoo, Esq., Executive Director, Council on American-Islamic Relations, SFBA
Guadelupe Garcia & Erika Martinez, DREAMers
Brian O'Neill, SEUI Local 215, Fight for $15
Organized by Peninsula Peace & Justice.
Endorsed by Multifaith Voices for Peace & Justice, Jewish Voice for Peace - South Bay, Peninsula Interfaith Climate Action, Action Council of the Unitarian Universalist Church of Palo Alto and other local organizations.